Welcome to the West Virginia PTA Virtual Exhibit Hall!
This will be a "one-stop shop" for our PTA volunteers to find
vendors, exhibitors, and fundraising companies across the country to use at their schools.
Instead of having to research all over the internet for the best fundraising companies,
we've done all the work for you!
Click Here
for the Virtual Exhibit Hall Registration Form
Click Here
to Sign-Up/Pay for the Virtual Exhibit Hall Online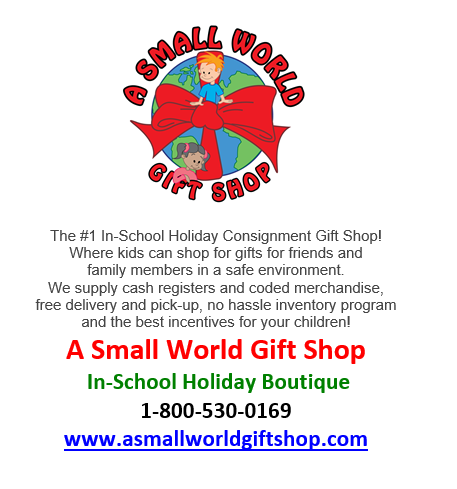 A Small World Gift Shop
Contact Name: Cecilia or Sam
Street Address: 388 South Avenue Suite B, Staten Island, New York 10303
Phone: 1-800-530-0169
Fax: 718-442-9014
Email: info@molyn.com
Website: www.asmallworldgiftshop.com
The #1 In-School Holiday Cosignment Gift Shop! Where kids can shop for gifts for friends and family members in a safe environment. We supply cash registers and coded merchandise, free delivery and pickup, no hassle inventory program and the best incentives for your children!
A Small World Gift Shop In-School Holiday Boutique
1-800-530-0169